Intro

Football fans love a good wonderkid, but not many prodigies could compare themselves with Aguero.
He started his career so soon that even a teenage Messi looked up to him.
His rise was incredible and extremely wholesome: from the absurd story of his birth to losing his best friend and bonding.
With Messi, it's impossible not to be touched.
And that was before he even went on to make history, taking Atletico from the second division to champions of Europe, breaking one transfer record after the other, marrying Maradona's daughter, becoming a premier League Leg end, taking Argentina to glory and facing an early and devastating end to his career that left the world of football in shock.
Welcome to the life of Sergio El Kun Aguero.
I know you guys will love this one.
Enjoy.
He was almost never born

In 1988, despite being underaged, his parents moved to Buenos Aires trying to find a space to raise Sergio's sister… they were really poor.
His dad was the only provider, and he made barely any money working as a taxi driver and part time footballer.
So much so that he had to build their house with his bare hands… with such little money.
They even had to stack the bricks vertically to make sure the house was tall enough….
Things only got scarier when Adriana, the mom, found out she was pregnant with Aguero….
Shortly after Buenos Aires experienced the worst floods in decades, which was much worse for them since their house was right beside the river….
After two weeks living with water up to their hips, they were finally evacuated.
For a while, they slept in mattresses on the floor of a church, and once they came back, they found out the house had been looted.
They had nothing to their name… and suddenly, as things couldn't stop getting worse, Adriana's waters broke months before she was due for delivery… With the local hospital overwhelmed after the floods, they were forced to find some place else to go to, and after a 3 hour trip, 2 buses and 1 train… she finally found a hospital, and the news were just as bad.
The only solution would be to endure the pain, trying to stop herself from giving birth… Against all odds.
She managed to do so for months, completely alone, in a room, with no other patients and without the company of her husband, who had to work all day to make sure they had enough money for the baby… She was only 18 at the time.
The Greatest Wonderkid Ever Seen

Still in a ridiculous stunt, the hospital discharged her only 2 weeks before her due date, forcing her to repeat the 3 hour journey after she went into labor only days after leaving, And even then after being informed they would have to use forceps on the baby as he was stuck, she instead opted for a much more painful procedure, as she believed the forceps could hurt the baby… In the end, somehow, Sergio Aguero was born… and right after his check up, the doctor told her this baby was born "con Un Pan Debajo Del Brazo", a Spanish saying meaning he would bring the family good luck… Watching Aguero grow, it was obvious he was destined to play football….
The coincidences were there for everyone to see… his family moved twice, and every single time, out of complete luck, their houses would always be right beside a makeshift football pitch….
By the third time they moved, the corner flag would be literally 1 meter in front of their door, and it was after one of those moves that Aguero earned his nickname Kun….
The family had managed to get themselves a tiny tv and little Sergio would go around the house imitating the cartoons, yelling Kun Kun everytime he found one of his relatives.
At 5 years old, Kun was already playing for money in the streets.
He was already so good that he constantly got scouted and after a while he was literally playing at like 5 clubs at the same time, meaning that eventually his father literally quit his own football career to chauffeur his 7 year old football prodigy around, making sure he didn't miss any of his matches By the time he turned 9, the offers were flooding their mailbox, some even coming from Europe, but petty little details kept making it.
So Aguero stayed with his family… until one day Argentine businessman Samuel Liberman found out about the boy and overtook every single club in the race to sign him, offering his family a house in a better neighborhood, sending Sergio to a private school and supplying them with money, clothes, training, equipment- in his own words, "anything he could ever need", but above all, striking a deal with Independiente, which became Sergio's first official club.
This whole deal was especially interesting given the fact, years earlier, Liberman had taken a chance on another youngster.
His name was Diego Forlan….
Little did they know the two would one day make a scary, striking duo.
And things didn't stop getting more and more insane.
After just 2 years at the club, his talent had hit the papers, with one even describing him as the "kind of talent you can bet your house on".
With this level of fame came the first mind bending offers.
Juventus sent his parents a check with so many zeros, they nearly passed out just looking at it, but still they hold off on saying yes and ended up instead signing him with international management agency Img, getting all the money they needed and more with the company, eventually even getting the teenager signed to Nike Days after turning 15, he finally achieved his dream: being named in the squad and debuting in the Primera Division… no if's or but's.
He was the youngest ever player to do so, and by quite a margin.
That day, the match wouldn't go according to plan, but one minor detail would make it all the more interesting: 200 miles away, another young football talent sat in his living room watching the match in complete awe.
That boy was Kun's future best friend, And actually, after a debut for Argentina in the under 16 Sudamericano in 2004,, where Aguero would score 3 in 4 matches, the two would meet for the first time, crossing paths in the national team's training grounds, with Aguero asking Messi for his name and eventually being told he was "that one kid playing for Barcelona".
The Tragic Loss Of His Best Friend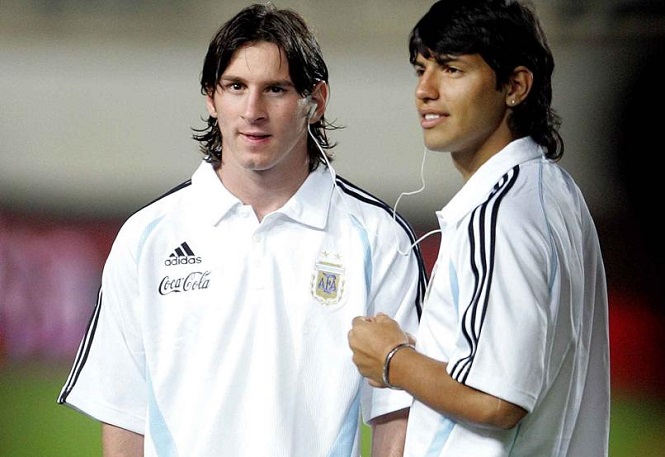 Only months later, the two would join forces for the 2005 under 20 world cup, creating an unbreakable bond between the two… Upon arriving at the tournament, Aguero was informed that his best friend, Emiliano Molina, who he had known since they were kids and rose together with Aguero becoming a goalkeeper at Independiente, had been in a serious car crash….
Aguero instantly became depressed and obsessive, constantly calling up his family to check on his friend… Everyone was worried.
The staff even turned off the wifi to make sure that if anything bad happened, Aguero wouldn't find out through the news.
But fate would have it.
Not only did Messi get picked to be his roommate, for some reason, his phone could still connect to the wifi, and one morning, upon waking up earlier than expected, Messi was the one to find the horrible news that Emiliano had passed away….
Messi didn't shy away from making the hard decision of waking up Aguero and telling him himself what had happened, and that moment defined the start of their friendship, with Messi holding Aguero as he sobbed uncontrollably, doing his best to support him throughout the tournament, while also going on to have an amazing performance that made them both world champions and allowed Aguero to honor his friend by displaying a shirt that read "Para Vos, Emiliano".
Ever since that day, the two were inseparable: Aguero had lost one brother and gained another one who would join him on a quest to conquer everything they sat their eyes on, And so, after this tournament, Aguero went on to have his breakout season.
Saving Atletico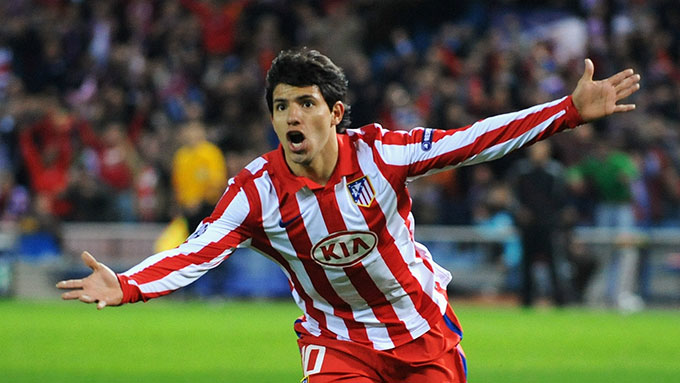 If the year before, Menotti had been mocked for saying the kid reminded him of Romário , no one was laughing.
By the end of that season, Aguero scored 18 league goals, earned himself a debut for the national team, scored the goal of the year, once again showing off his Emiliano shirt, starred in a tv show alongside Maradona, did his first Nike commercials, signed million dollars sponsorship deals and, above all, got every club in Europe fighting for his signing, before settling for Atletico De Madrid, joining them for 23 million euros, a record transfer in argentine football and Atletico's most expensive signing ever… just think about it: if you adjusted it for inflation, it would be about 89 million euros in today's money… for a 17 year old, a real life unicorn or, as we say in football, a wonderkid.
In his first season, he was kept in and out of the squad to make sure he would get the time he needed to adapt, but still managed to leave his mark, forming a memorable partnership with Fernando Torres- oddly enough, even getting matching tattoos- and scoring 7 goals, including a special one away at the Camp Nou
Over summer.
However, Aguero would now lead the under 20 Argentinian national team in the absence of Messi, and it's hard to put into words just how much he impressed.
After a quiet first game, he led Argentina towards 6 consecutive wins, getting 6 goals, 3 assists and even scoring the first goal, as he inspired Argentina to pull off a comeback in the final against the Czech Republic, winning the player of the tournament award as well as being the top scorer, going on to iconically give a post match conference with all 3 trophies in hand.
Back at Atletico, he joined forces with Diego Forlan and he lived his first world class season, hitting the 30 goal mark and getting 11 assists, as he led Atletico to qualify for the Champions League for the first time since being relegated in the early 2000 's, winning the Golden Boy Award and becoming the poster boy of Atletico's rebirth.
Still, 2008 would only get better, first, as Aguero won the gold medal at the olympic games, partnering up with Messi and scoring a brace against Brazil in the semi finals, before going on to hit the headlines once again after marrying none other than Maradona's daughter, with whom he would have his first son, who might be the luckiest kid in the world, having Maradona as a grandpa, Aguero as his dad and Messi as his godfather… imagine if he turned out to be basketball player.
The next season, Aguero averaged about a goal contribution every 90 minutes as Atletico maintained a fourth place finish.
And in 2010,, he lived his greatest moment as an Atletico player, winning the Europa League, coming back from one goal behind in the final, assisting Forlan in both occasions to lead Atletico to their most successful season in a decade, Regardless.
The following year, things quickly turned sour as, despite scoring to surprisingly beat Inter to the European Super Cup and being in some of his best form to date, with 20 goals in the league, second only to Ronaldo and Messi, out of n owhere, Aguero, now 23 years old, went against his own word that he would stay at Atletico until the end of his contract, asking that it be terminated, refusing to celebrate his hat trick in the final match day and making some inflammatory public statements before the club reached a deal with Man City for his transfer.
However, by then, he had done enough damage to his reputation that the Atletico fans raised a banner in the following match that read "Aguero, we hope you die".
Regardless, City would pay 40 million euros for him, making him the most expensive signing in their history.
Instant Impact At City

Keen to follow the footsteps of his idol, Michael Owen.
Though most foreign players can take months or years to adapt to English football, Aguero fit in instantly.
It was love at first sight: scoring two and assisting another right on his debut and being involved in 33 goals right on that first season, with 10 of those coming on the final 8 matches.
As City battled with United for the title down to the very last minute, needing a win in their final match against Queen Park Rangers, but only tieing the match in injury time… And, of course, as they needed a goal to win their first ever Premier League trophy, it was none other than Aguero who came out of nowhere to score what might be the most memorable goal in the history of English football, handing them the trophy at the very last second…he could have never again kicked a ball and he would have been a football legend forever.
Regardless, he kept going, but the following season, probably due to a number of injuries, his divorce from his wife and the sacking of his goal tally dropped substantially.
Still, the arrival of Pelegrini, his role changed from second striker to now being the team's primary goalscorer, and even though his injuries got worse, only allowing the opportunity to play the full 90 on 5 occasions.
He averaged a goal contribution every 59 minutes- (17 goals, 9 assists, 23 matches)- which was absolutely wild and should, in any other occasions, have not only allowed him to win the golden boot, but also to break the Premier league's all time goalscoring record, but at least it earned him another title.
This was, however, a recurring theme in his career where, despite always being the deadliest of strikers, the game time he would miss through injury would stop him from achieving the awards he deserved.
Unfortunately, over summer, his goal form was not carried over to the world cup and he would finish the tournament without a single goal or assist, coming in late in the final to watch from up close, as Argentina lived one of the darkest days in its history, and it wouldn't stop any time soon.
In 2015,, he finished the season by winning his only ever golden boot, with 26 league goals.
However, City would lose out on the title to Chelsea regardless, and the same sort of scenario would happen over summer at the Copa America, with Aguero getting 3 goals in the tournament, as Argentina went on to lose another final To continue his streak of bad luck after a final disappointing season with Pellegrini in 2016,, where City finished 4th and lost out on the Champions League final trough an own goal.
Aguero ended a season where his only memorable highlight was a 5 goal haul in 23 minutes versus Newcastle by joining the Argentinian national team for yet another international tournament from which they would be ejected in the final match, the 2016 Copa America… This time, the blow was so harsh both Messi and Aguero considered retirement from international football….
Had it not been for the uprising in the streets of Argentina, we may have never seen the two put on the albiceleste kit again.
However, at Manchester, Pep Guardiola arrived and he demanded a lot from Aguero, claiming: "It is not enough to receive the ball from his teammates.
You cannot be brilliant if you Dis appear when the ball isn't at your feet".
Pretty harsh critics that had some doubting whether Guardiola had any right to say this about a player who, by then, was an all time great, but the reality is that in his first season with Guardiola, not only did he score an impressive 20 league goals, but his sprint frequency went up by 40% and his distance covered by an extra kilometer per match….
Guardiola had taken a great player and made him into a different beast.
However, no matter how much changed or how dominant they became domestically winning back to back titles.
The Disappointing And Sudden End

In the following two years…, Man City repeatedly failed to do anything remarkable at the international stage and, with Aguero hitting 32 years of age by 2019, he began taking a secondary role in the squad, being more and more overlook by Guardiola, starting less than half of the available league matches that season and finally failing to hit 20 goals in the league
But it was exactly then and there that an opportunity fell right on his lap, with one season left on his contract.
City went on a magical run, playing the final of the Champions League for the first time ever, and it was to be the last match Aguero would ever play for a City.
This was highly publicized, with City being the favorites to win it.
Aguero lifting the Champions League trophy would be the perfect send off, especially as he had been mocked for years for City's lack of success in the Champions League.
As he had claimed in an interview, he would only leave the club once they had won the tournament… but then they lost… and that was it.
No happy ending.
Sometimes that's just how things are ruthless… but with 41 goals in the competition, even if Aguero falls short of some of their rivals, it is still an impressive record that puts him above the likes of Rooney, Cavani or Eto'o, and, thankfully, over summer, he would experience the complete opposite emotions as, despite staying mostly on the bench, he joined Argentina in their much anticipated victorious Copa America run, finally getting to live out one of his greatest dreams alongside his best friend after both had nearly quit.
And what better way to follow that up than joining Messi at Barcelona for one final run?
It once again seemed like a fairy tale ending was destined for Aguero, but just like before, it all crumbled in what seemed like a millisecond First, with many theorizing, Barcelona had only signed Aguero in hopes of using Messi's friend as a bargaining chip to keep him at the club.
Their move fell completely flat, with Messi joining Psg regardless and leaving Aguero completely shocked, as well as making him the butt of tons of jokes on social media….
It was already a pretty depressing moment, but Aguero was determined to make the most of his move regardless, and it seemed all would be good until after just 5 matches for Barcelona.
Aguero was playing against Alavés when, all of a sudden, he started feeling dizzy, saying: "I tried to shout at the referee to stop the game, but I couldn't get the words out, so instead, I grabbed a defender's hand and asked him for help".
With a strong pain in his chest, Aguero was put under surveillance at an hospital for three days… he said it himself.
He didn't think much of it at first, but then he saw the doctors faces and began feeling nervous… Soon, they would be telling him that, though he could try to play football again, it could go very wrong and it would be best to leave his career behind.
Leading Aguero to announced his retirement, and though the doctor would later claim in public that there was a chance he would be fine, eventually Aguero claimed that ever since that day, even a single sprint would leave him gasping for air, and everyone's hopes died out, as the player left us with one final remark saying: "I am glad that at least it happened.
Only now.
It allowed me to live out most of dreams.
My last goal was at El Classico, and the chip I have implanted in my chest makes me feel like Iron Man.
What more could I ask for".