Intro
So listen to this….
De Bruyne has one of the most emotional and tragic life stories of any football player, and knowing that… it makes it 10x more impressive that he has managed to become a football superstar.
Right from the beginning, he was abandoned by his foster family and nearly expelled from his academy.
When he was supposed to have had his big break, his girlfriend cheated on him with one of his teammates and made him a mental wreck… he ended up being deemed a flop by the media, and still he used used his anger as fuel to become greater.
And in the end, he had reached the top, and still life didn't stop hitting him with tragedy after tragedy.
This is the incredible story of Kevin De Bruyne, Enjoy.
Abandoned by His Family
It all started in his garden where, after repeatedly breaking the pots, his parents forced him to only play with his weak foot….
Looking back now, it was a good decision.
At 8 years of age, he was already getting into trouble.
It had been 2 years since he joined his local club, Kvv Drogen, and he was already trying to take the next step in his career…
So he quite simply told his coach: "The training sessions are better at Gent" and moved to his new club.
However, things at Gent didn't get easier.
He wasn't a troublemaker, but though he was oddly quiet, he had a really strong character.
He was ambitious and overly honest And, it seems, that, kind of scared away his teammates and even his coaches, who would try their hardest to make him "normal", But though they tried a lot, they rarely ever succeeded.
One time back then he was so annoyed that one of them was always on his back that he refused to let go of the goalpost until he felt he had been understood, except that by then it was night time.
That same coach would go on to bow down and admit: "He is stubborn like a mule, but I can see now that that's what made him so great".
Regardless, over time, news of his great talent travelled far and wide, and so Genk, knowing the kid was unhappy, convinced him to move all the way across the country all by himself to play for them.
But it was at this moment that De Bruyne experienced his first big heart break….
After a year living in a boarding home, Genk made a special arrangement where young players, instead of being housed in their premises, would be hosted by a foster family, and so De Bruyne, along with two of his teammates, moved in with this new family.
But the past year had been tough for De Bruyne.
He was already socially awkward back in his hometown, but now all the way across the country and, speaking with a funny accent, well, as he said it himself, "they were the loneliest years I'll ever live".
However, now with this new family, he felt safe.
He wasn't so alone anymore and it helped him to fit in….
After a year he felt like it all had gone smoothly.
He was "doing good in school, doing good in football.
No fights, no problems".
As he waved them goodbye before summer break, his foster family waved back and told him they'd see him next year… but the moment he arrived at his hometown, he walked into his house to find his mom crying… she looked at him and said something that, in his own words, "shaped the rest of his life".
"The foster family called and they don't want you there…it's about who you are.
They say that you're too quiet, that they can't interact with you… you're just too difficult".
De Bruyne obsessed over these words because no one had said anything to him… he was so focused on making it that he just tried his best not to cause any troubles, keeping quiet inside his room, waiting for the next training session… but turns out that was a problem.
And as his mother finish telling him what happened, he just picked up a football from the floor and ran to his backyard and kicked the ball against a fence for hours… with those 5 words looping in his mind: "it's about who you are.
It's about who you are".
The worst part wasn't even that he had been abandoned by these people who were family to him….
The thing is that the club had been contacted and they now thought he was a problem, so much so that they weren't willing to pay for another foster family to take care of him, and instead he'd be sent to another boarding house.
Getting Revenge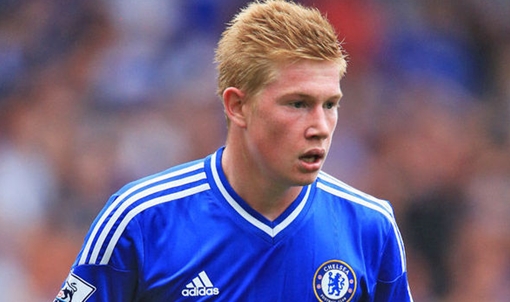 But this one was special… it was a boarding house for troubled kids… When the pain finally calmed down, he relaxed and said out loud to himself: "Everything is going to be OK.
In two months I'm going to be in the first team, No matter what.
I am not coming back home a failure, No matter what".
At this point he was already 16 and, though he had already played a few matches for the B team, he was, in his own words, "a nobody".
But that year, once summer was over, he arrived at Genk and… I'll just quote him: "I had so much fire inside me.
It was mad.
I remember the exact moment everything changed.
We played on a Friday night.
I started on the bench.
When I came on in the second half I just went crazy.
One goal: they don't want you anymore.
Two goals too quiet.
Three goals too difficult.
Four goals: they don't want you any more.
Five goals because of who you are.
I had scored 5 goals in a single half of football".
It had been such an undeniable performance that De Bruyne was moved to the first team immediately.
It had been 1 month and 20 something days.
He had actually made it to the first team faster than he had promised he would….
Once there, the club started acting a bit strange, saying they wanted to pay the foster family to get him back living with them….
They even showed up and the foster parents told him it had all been a misunderstanding, that obviously they would like him to stay.
What they meant before was that they only wanted him to come over on weekends.
But before they finished trying to dig themselves out of a hole, De Bruyne just said: "You threw me in the trash and now that I'm doing good, you want me back".
And before they could even say something, he turned his back on them… Eventually, when he finally talked about this in an interview, he said that he should have probably thanked them, because it was their actions that fuelled him to become great.
From Nobody To Wonderkid
And indeed the following years were something special…
In the first he barely played.
In the second he started getting minutes and by the third he took the league by storm… Getting 5 goals and assisting a further 16… And leading Genk to their third league title in their history, clenching it by half a point.
That might sound weird, but it's actually true.
In the belgian league, in case of a tie in points, the portion of them obtained from the first stage is rounded down half a point, and that's just what happened that year.
If that's the tightest title race you've e ver heard of, drop a like on the video.
That same year, he still managed to go another step further, earning his debut for the Belgian national team and instantly impressing everyone there, with Vincent Kompany even saying that by the time their first training session together was over, all the players were chatting to each other like "did you see that He's 19 and he's already the best player in the team".
Also fun fact, his mom was actually born in Burundi, in Africa, so technically he could have played for them instead.
Wonder why he didn't….
*show Ranking*.
But despite this success, don't think for a second that De Bruyne had changed….
His Genk career was full of strange moments.
First at 19,, he saw fit to confront the team's star player, Elyaniv Barda, to complain that he didn't work hard enough in training.
And then, in 2012,, he got so annoyed at his team's poor performances that he used the post match press conference to say: "I'm ashamed of my teammates and I suggest to those who don't have a desire to play, just leave".
But in the end, it would be De Bruyne who would leave… signing for Chelsea, who were so impressed by his performances that they intended to make him their Frank Lampard replacement… But before that, he would go on loan to Werder Bremen.
In the Bundesliga, he quickly cemented his status as one of the world's greatest up and coming talents.
If others made waves with flashy skills, De Bruyne was simple.
And somehow that was even more impressive because, just as Cruyff had once said, "Football is simple, but playing simple football is the hardest thing there is".
Even with Bremen flirting with relegation, De Bruyne pulled off 10 goals and 9 assists and casually took the award for Young Player of the year.
Cheated On By His Girlfriend
It was time to focus and take over the Premier League But focus was something De Bruyne struggled with that season, Because it just happened to be that year that his girlfriend cheated on him with childhood friend, ex academy and international teammate Thibaut Courtois, And she wasn't even nice about it, confirming the whole scandal to the press and making sure to say that Courtois gave her in one night more than De Bruyne had given her in three years.
Though, to be fair, she would make sure to say that she did it as revenge.
Supposedly, De Bruyne had cheated on her months before.
Still, with his form hitting a low point just when he needed to be performing the most and Mourinho giving him a hard time, De Bruyne would be sold after just half a season playing at Chelsea… he had only managed 1 assist and not a single goal.
At that point, His next destination was Wolfsburg, back to the Bundesliga.
But once again De Bruyne channelled his rage into his game.
Even with Courtois joining Chelsea after he departed, in what seemed like a bit of poetic injustice, De Bruyne still managed to remain calm and be the bigger man, allowing Courtois to continue playing for the Belgian national team.
After that, coach gave De Bruyne the power to decide if his behaviour should be punished.
In fact, that same year, De Bruyne was Belgium's top scorer in the qualifying stage, leading them to their first international tournament in 12 years.
Conquering Germany
Once the next season started, De Bruyne took advantage of this blank canvas he had been given and created a masterpiece with 16 goals, scoring 2 goals against Bayern in a match that ended up becoming their first defeat in nearly a year.
As well as an absurd 27 assists, 21 of which came in the league, which at the time was a Bundesliga record
He took Wolfsburg to a cup title and second place, only behind Bayern, and, to top it all off a place, he earned a place at the Ballon D'or and won the award as the league's Player of the year….
And if you're wondering how he managed to make such a comeback after having his heart broken, well… he met his future wife.
He was so insecure, after years of media persecution, that his friend had to take his phone and send that first text.
But now… De Bruyne says she changed his life, that without her he would have never been able to get out of his shell.
Successes & Tragedies
By the end of the year, they were already about to have their first child and, unfortunately, a major scare arrived when, one morning, his wife woke up and she was bleeding.
The moment De Bruyne felt helpless in that hospital hallway.
He realised that there was much more to life than football, and, though in the end everyone was okay, he had once again had a life changing moment.
From there on out, he didn't play because he had a fire in him that needed to be fueled.
He played because he was in love with the game, And one year after his move to Manchester City for 76 million euros, making him the league's most expensive ever player, depending on the currency, one man arrived that changed his life forever… Pep Guardiola.
Ever since his return to the league, De Bruyne was labelled as a flop, a Chelsea reject, but then Guardiola sat De Bruyne down and told him quite simply: "Kevin, listen, You can be a top five player in the world, Top five, Easily".
If previously, De Bruyne struggled with authoritarian coaches, this was the perfect approach.
There was no need for being fired up.
De Bruyne didn't need to prove Pep Guardiola wrong.
He wanted to prove him right, and with every season that came after that claims that he wasn't anything more than a Chelsea flop crumbled bit by bit.
In his second season with Pep De Bruyne topped the assist charts with 16 assists and led City to become the first ever club to hit 100 points.
Over summer, his form only continued escalating as, after a number of underwhelming tournaments with Belgium, De Bruyne finally managed to live out his dream of bringing glory back to the national team, pairing up with Hazard for one of their most successful ever tournaments, even scoring the winning goal to take down Brazil in the quarter finals, before going down to France and beating England to conquer the bronze medal, Belgium's highest ever achievement at the world cup.
The Ballon D'or rankings now considered him a top 10 player in the world.
Guardiola's claims were slowly becoming trueBut 2019 proved to be another tough year.
His injuries came over and over again, and the day after his second son was born, De Bruyne tore a ligament in his knee, leaving him in a brace….
He called his wife and she noticed a tear in his eye… he told her: "I'm not gonna be able to even dress myself.
You're gonna have three babies at home now" and broke down crying… she was as worried as she was shocked….
Once he calmed down, she told him: "You didn't even cry at our wedding.
You didn't cry when the kids were born, and one was literally born yesterday".
Reflecting on that moment, he would go on to say: "Weddings and funerals, I'm a rock, but take football away from me and I'm done".
But worry not.
Once he got back into shape, he did not look back.
The 19/20 season became a staple of his career and, even if City failed to win the title, with 20 assists, not to mention an extra 13 goals, De Bruyne had tied the legendary Thierry Henry for the league's all time assist record and had been named the best player in the league.
Had the Ballon D'or been a thing in 2020, he would likely have been picked as one of the 5 best in the world… I guess we'll have to wait.
Ever since then, he has continued to excel.
He is on the way to a 4th premier league title, and just a few weeks ago, he scored and assisted against Real Madrid, to no effect, as City once again will miss the Champions League final.
It's the one thing keeping De Bruyne from going head to head with pretty much any midfielder who ever played the game.
As Guardiola once said, "Messi sits on a table all by himself, but De Bruyne, he can certainly sit in the table beside it".