Jordan Jeffrey Baby says he wants to be a living Jumpman testimonial, hence the Air Jordan tattoos all over his torso. But is he actually into the sneakers?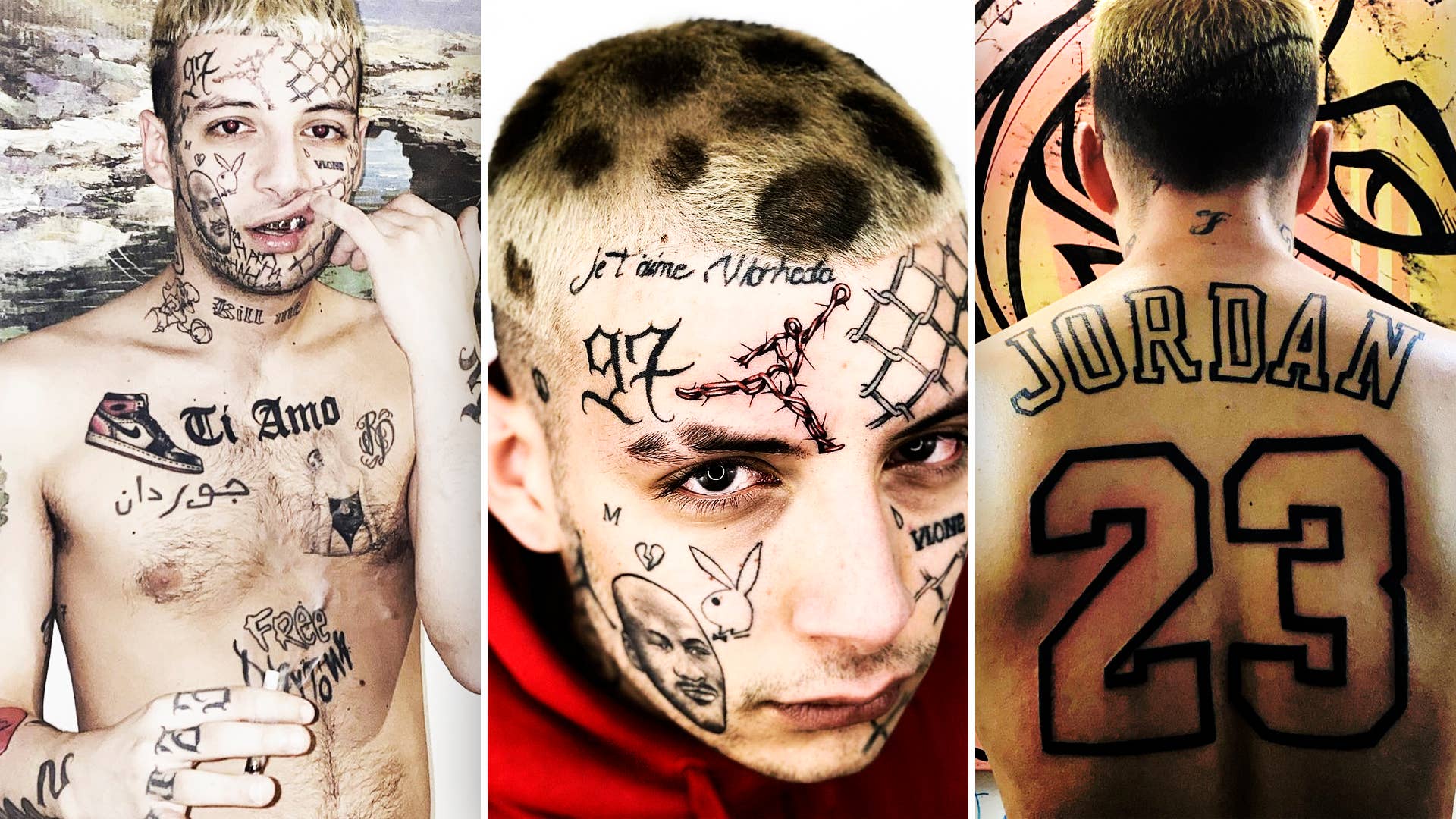 Instagram
Images via Jordan Jeffrey Baby on Instagram
You cannot escape it. The Jumpman logo, the pirouetting silhouette of Michael Jordan that's appeared on his Air Jordan sneakers for over 30 years, is in cahoots with death and taxes.
It is the embroidered branding on your shoes, the vinyl sticker on the rear window of an Acura in the grocery store parking lot, the proudly buzzed design taped onto a barber's mirror. It has adorned every surface there is. It is a global icon that appears on birthday cakes in frosting form and the face of at least one Italian rapper in tattoo form.
Jordan Jeffrey Baby, the 23-year-old rapper from Monza, actually has two Jumpman logos on his face: one of the standard black silhouette and then another made to look like barbed wire. He's also got Jordan's face tattooed on his. And an Air Jordan 1 on his chest. And the word "Jordan" in Arabic right below that. Obsessed though he is with the imagery of Jordan, he bought his first pair just two years ago.
"I tattooed the first emblem on my face without ever having worn a Jordan garment," the rapper says.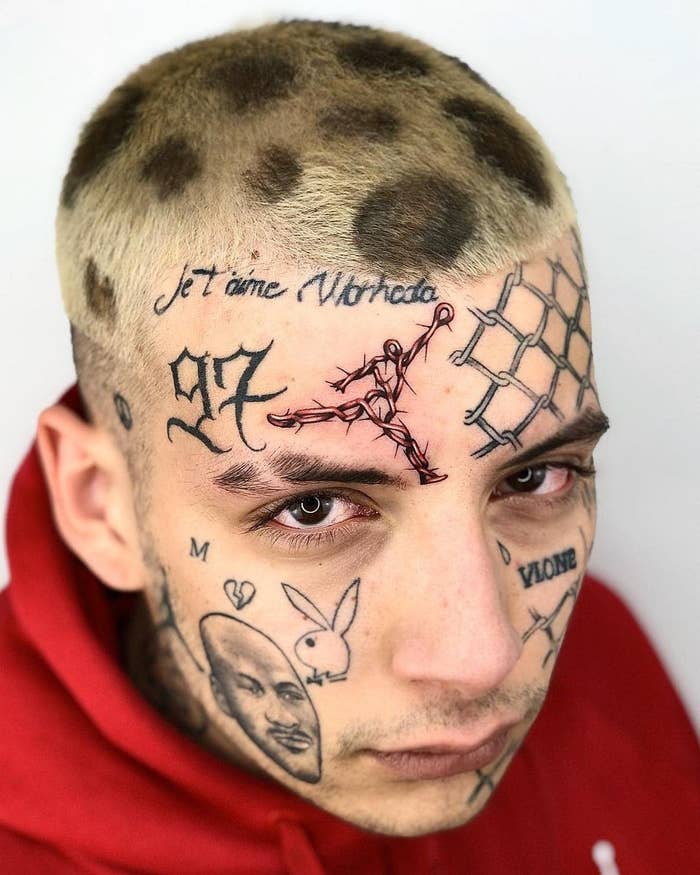 The Jordan theme is as prevalent in his body of work as it is on his literal body. He generally releases new music on the 23rd day of the month it arrives in as a tribute to Jordan's jersey number. His debut, an EP from May 2019, is called Michael Jeffrey Jordan, taking its name from the full name of the basketball legend. After that came a mixtape called Dr. Jeffrey and Mr. Hype in October 2019. His latest was Jumpman, an EP released in November 2020.
The many markings on his face, which also include the Vlone logo, make him look something like a characiature of the SoundCloud rap wave of three years ago. He's got the tattoos, he's got graphics of Xanax bars in his "Space Jam" music video, and he does that thing where you run your index finger along the bottom of your nose. He's even got an illustration of himself on his Instagram page mimicking the promotional material of 6ix9ine. Jordan is adamant though that he is not patterning himself after that rainbow-haired rapper.
"I don't fuck with that shit," he clarifies in our conversation.
He says that the ink on his body goes beyond promotional stunt work. Some of it is dedicated to a former lover who he's trying to win back. Jordan Jeffrey Baby has two tattoos on his forearm of Polaroid photos of him and his ex. As for the Jordan icons, he sees those as an important step in his life's mission. What is that mission?
In the conversation below, held over Instagram direct message this week, Jordan Jeffrey Baby answers that and other urgent questions. He warned ahead of the exchange that he is not totally confident in his English and would be using a translator to talk. With the consent of Jordan Jeffrey Baby, his responses have been lightly edited and punctuated (the exclamation marks are his) for clarity.
You have two Jumpman logos on your face, an Air Jordan 1 on your chest, the word "Jordan" in Arabic right below that, and a giant 23 on your back. When and why did this all start?
First of all, I want to clarify that Jordan is my first name. This has influenced, for 21 years of my life, on me not buying any Jordan garments, since I already represented the great MJ at the registry office.
Once [I] embarked on [my] life as an artist and released the first EP and the second, it was automatic to start dressing Jordan prevalently to strengthen the image and the parallelism, starting with the first Air Jordan 34 bought in Rome the day they came out. Let's say that the climb to conquer the entire collection is still long, but the tattoos on the face and body I hope will be able to get me noticed by the right brands or sneaker resellers, haha.